NEW Canon RF 16mm F2.8 STM Lens
Meet the RF 16MM F2.8 STM. It's the ultimate affordable EOS R-series lens for vlogging and more. For crisp, clear ultra-wide views this lightweight and super compact full frame 16mm prime will transform your images and videos, inspiring creativity at every opportunity – from landscapes to architecture and even astrophotography. Can you afford not to have one?
Ultra-wide view to capture all the detail
At 16mm, the RF 16MM F2.8 STM's full-frame focal length is ultra-wide, offering optimum vlogging potential and great creative opportunities for content creators shooting interiors and big views.
Smooth and quiet STM motor, perfect for video
The STM lens motor offers refined, quiet focusing and great smoothness. It is fast for photo, and provides that stunning cinematic look for video, too.
Fast f/2.8 circular aperture
The RF 16MM F2.8 STM has a fast f/2.8 aperture, delivering smooth, soft bokeh and highlights, great for landscapes with lots of foreground, as well as depth-of-field control when you want to vlog.
A beautifully small, light, take anywhere lens
The RF 16MM F2.8 STM weighs only 165g and measures just 40.1mm1 in length, so you can leave it on your camera all day or pack it in your kitbag and take it out for spontaneous creative moments.
Superb image quality
The RF 16MM F2.8 STM features nine lens elements in seven groups with a single PMo aspheric lens for excellent colour rendition and crisp, contrasty images – great for architecture and travel.
High quality filmmaking in crop mode
When shooting in crop mode, the RF 16MM F2.8 STM becomes a 25.6mm wide-angle – effectively a second lens – making it ideal for content creators seeking more options.
1 Lens dimensions when in retracted state
Key Specifications:

Ultra-wide 16mm – Perfect for vlogging and all creative content
F2.8 aperture – Great in low light, perfect for smooth bokeh
Compact, lightweight design – 165g and measuring just 40.1mm
STM Motor – Smooth, quiet and fast focusing 
Aspherical lens – Outstanding image quality
Price & Availability:  € 299 ex VAT@23%. Available to Pre-Order.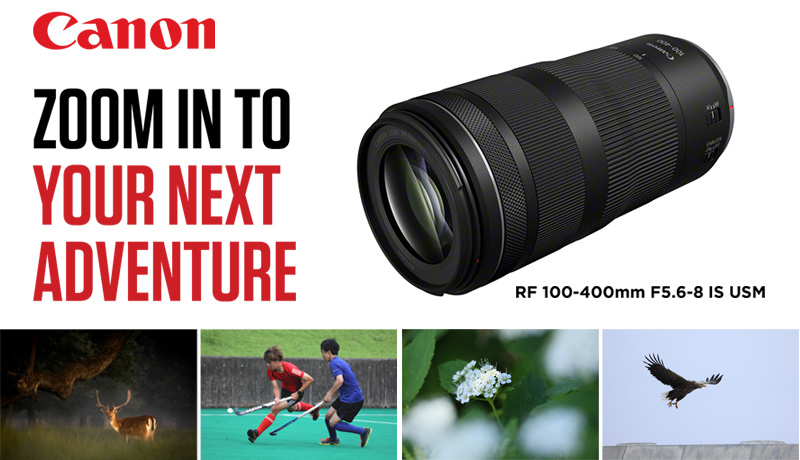 NEW Canon RF 100-400mm F5.6-8 IS USM Lens
ZOOM IN TO YOUR NEXT ADVENTURE
Capture distant wildlife, sports and family adventures with this lightweight, compact 100-400mm RF-series zoom. With an advanced 5.5-stop Image Stabilizer2, great close focusing capability plus the powerful reach of a telephoto, it's a stunning affordable lens that will bring those important moments to you.
Reach those distant subjects with ease
The RF 100-400MM F5.6-8 IS USM's zoom range gives you the power and flexibility to capture a subject both close1 and even far away. It's ideal for sports photography, wildlife or a day trip to the park.
Super sharp and highly stable
Powerful 5.5-stop Optical Image Stabilisation2 gives the RF 100-400MM F5.6-8 IS USM a great advantage for achieving sharp handheld stills and smooth movies with no need for a tripod to weigh you down.
Revolutionary size and weight
Weighing just 635g and measuring 164.7mm in length, this compact, lightweight lens is well balanced, even when fully extended, and fits in a kit bag beautifully.
Responsive performance with smooth, fast AF
Thanks to a Nano USM motor focusing3 is fast, quiet and smooth, while the Lens Control Ring gives control over settings. A nine-blade aperture delivers great background blur, too.
Super telephoto power
The RF 100-400MM F5.6-8 IS USM is ideal for animal photography and distant subjects producing great results thanks to Ultra-low Dispersion (UD) glass and advanced coatings.
Extend your reach even further
Increase your telephoto power with Canon RF extenders, which connect seamlessly4 with metering and Auto Focus to give you even greater precise reach for those faraway subjects.
Key Specifications:

100-400mm zoom – Great flexibility for wildlife and sport
5.5-stop Optical Image Stabilizer – Excellent stability for handheld shots
Compact, lightweight design – 635g and 164.7mm in length
Nano USM – Smooth, quiet and fast focusing
UD glass – Outstanding aberration control
Super Spectra Coating – For rich, natural colours
Lens Control Ring – Intuitive control of settings
Price & Availability:  € 649 ex VAT@23%. Available to Pre-Order.