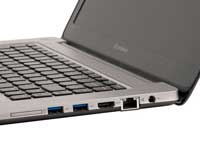 Replacement of VGA Display Connectors with HDMI; how the change affects your business

As the move to all digital display technology continues, laptop manufacturers are phasing out analogue display outputs in their products, adopting digital interfaces instead.
In December 2010, leading PC companies AMD, Dell, Intel Corporation, Lenovo, Samsung Electronics LCD Business and LG Display announced intentions to accelerate adoption of digital interfaces such as such as HDMI and DisplayPort. Inclusion of HDMI in new PCs and laptops has been steadily increasing in the major brands. Intel and AMD have indicated that analogue display ports such as VGA would no longer be supported in their product lines by 2015.
This is important for anyone hosting or attending meetings or presentations using a laptop. The majority of meeting facilities that were fitted before 2012 would have been fitted with VGA connection plates to cater for laptop connection via VGA cabling.
As a meeting host, in order to ensure that you can cater for laptop connection via HDMI, it is recommended that cabling is upgraded to incorporate HDMI connection availability.
As a visiting laptop user, if your laptop has a VGA port, you can continue to use VGA connection cables that are in situ.
If you use a newer laptop model with HDMI port and unsure of HDMI facilities in a meeting venue, it may be worth contacting the host IT department in advance to ensure compatibility.
For further information and advice on the switch to HDMI connection please contact us on
+353 (0)1 4782520