Do you use any of the below platforms, or more?
Then you you will know the importance of having conferencing hardware in your meeting rooms that is easy to use and works with multiple platforms.
In comes the CX range from Barco, which makes this more simple than ever!
What is ClickShare Conference?
It doesn't matter if you use Zoom, MS Teams or BlueJeans to communicate with your employees, clients and partners – using ClickShare Conference, you can bring your own meeting and connect to the room's video hardware in seconds. All you have to do is insert the USB button into your laptop and click!
SO HOW DO YOU USE CLICKSHARE CONFERENCE?
Bring your laptop
Plug the Barco USB button into your laptop
Click the button and watch your VC Hardware come to life!
Start your meeting!
Using whichever cloud video platform you want, these three simple steps will mean that you no longer have to use a fuzzy laptop camera and quiet microphone. The USB peripherals in your meeting room will automatically connect and give you top quality sound and audio.
THIS IS FLEXIBLE COLLABORATION AT THE CLICK OF A BUTTON!
Which CX product is right for your needs?
Huddle spaces • Small meeting rooms  • Large offices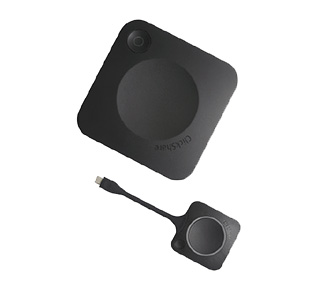 Transform small meeting rooms and huddle spaces into inspiring conference facilities.
Full BYOD support
Remote collaboration
Triple agnostic: works with any device, and UC technology and any brand of AV peripheral
Enhanced security
Connected and cloud managed
Small / Medium Rooms
Seamless, wireless conferencing for small to medium-sized meeting and conference rooms.
Full BYOD support
Collaborate remotely
Full interactivity and moderation
Works with your device, your conferencing platform (UC) and your brand of peripherals
Enhanced security
Large meeting rooms • Boardrooms • Collaboration areas
ClickShare CX-50
Bring premium wireless conferencing and remote collaboration to your meeting rooms and boardroom.
Full BYOD support
Remote collaboration in highest quality
Full interactivity and moderation
Triple agnostic: your laptop, your conferencing platform (UC) platform and your brand of USB-peripheral.
HDMI input cable
Image Supply Systems is an Authorised Barco Partner 
Contact us for further information
T: +353 1 478 2520
E: sales@imagesupplysystems.com